1-2-1 Dog and Puppy Training
Every owner wants a well behaved dog - a dog that has good manners with people and other dogs, that does what they're told when they are asked, that walks calmly on the lead without pulling and that comes running when we call on them. We are here to help you achieve this!
Bespoke packages to meet your training goals
1-2-1 training package. Cost £275
Includes:
Online initial consultation (up to 1 hour via Zoom + notes).
To discuss what has been going on and what you would like to work on; what you have tried already, what worked and what didn't work; and to give you the foundations of our training.
4 in-person follow up consultations (1 hour each + notes).
Mon-Fri Whatsapp support.
Anything that comes up with your training you can get in contact with your trainer in a private group chat.
Sessions would need to be taken within 3 months with some regular sessions for the first few weeks.
1-2-1 follow up training package. Cost £220
Includes:
4 in-person follow up consultations (1 hour each + notes).
Mon-Fri Whatsapp support.
Anything that comes up with your training you can get in contact with your trainer in a private group chat.
Sessions would need to be taken within 3 months.
What to expect
We provide dog training that is fun and effective for both you and your dog. Using the most up-to-date techniques and methods, we will first sit down with you and listen to what you want, before creating a training plan to help you get there. Our emphasis is on friendly, relaxed and enjoyable dog training in your own home environment or outdoor park that you prefer. Whether you are just starting out with your first puppy or are an experienced dog owner wanting to train more complex behaviours, we will tailor make training sessions that are perfect for you and your dog.
Here is what some of our lovely clients have to say about our trainers!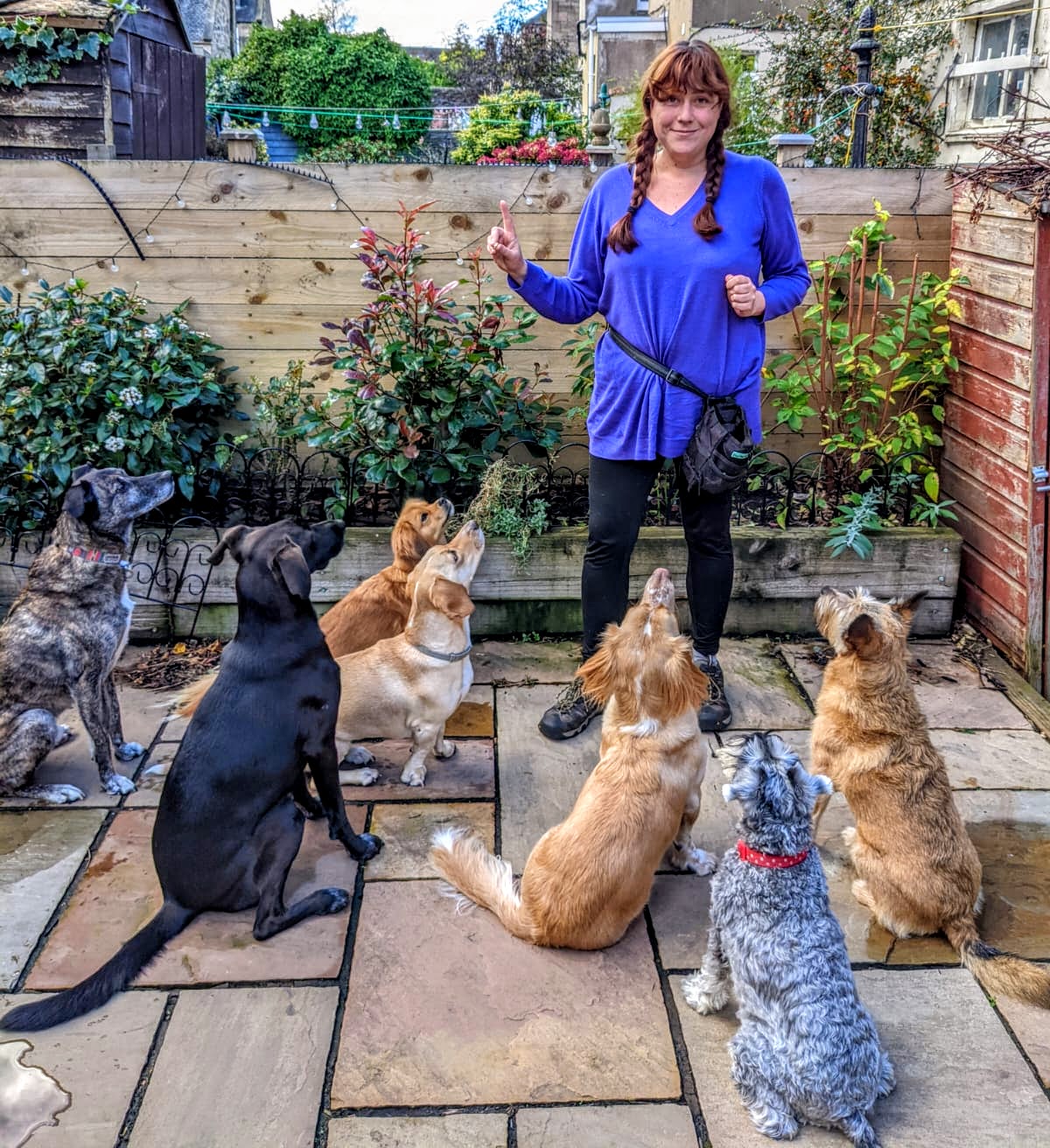 "We cannot recommend Elona enough and thanks to her advice and training exercises, our pup is like a completely different dog. When we adopted our overseas rescue pup, we were extremely concerned with how roughly he played with other dogs including not releasing if the other dog yelped, resource guarding, biting us constantly and panic yelping if we weren't in sight inside the house. We were terrified that we weren't doing the right things and that we could inadvertently be making things worse, even though all we wanted was to make our pup feel happy and safe. From the first training session Elona reassured us so much by explaining possible reasons behind the behaviours, that this is not abnormal for a rescue dog and gave us examples of her experience from her own rescue dog. She helped us with our pup's impulse control, showed us how to reward calm behaviours and described the types of interactions we needed to encourage/avoid. From the second that Elona walked in the door our pup was learning from her whilst having a lot of fun which was invaluable to see. It is clear to see Elona's passion for helping others to achieve happy results through fun games and positive reinforcement and she was always available to provide advice if we were unsure on a training exercise or when to progress it. We are very much looking forwards to continuing to work with her into the future and we are sure our pup is too! " – from Lara J. and Spike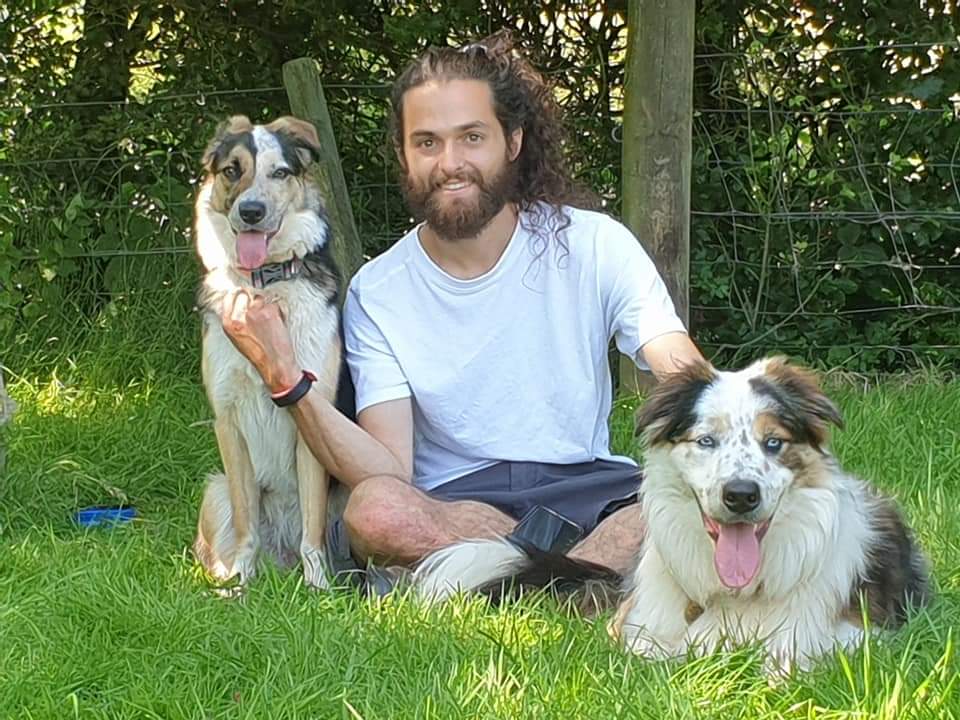 "We've had a bunch of sessions with Minas since getting our pup and each session has made huge differences. So far we've managed to improve loose leash walking, recall, stay, settle mat and a lot more. We've also learned a lot about the best ways to actually train a dog which has really helped when I've been trying to each something on my own. Even though we were making solid progress with the training at first, the initial pointers and tweaks to our methods that Minas showed us made everything so much easier. Having WhatsApp support during the week was really, really useful too. Whenever we had general questions about training (And with a pup that never seems to slow down, we had a lot of questions) we'd always get some tips or pointers to help out with whatever issues we had. If you're looking for a trainer I can't recommend Edinburgh Dog Behaviour enough, it's definitely made our lives easier. And the difference between an actual trainer in person that knows what they're doing compared to the countless YouTube videos I watched about training really is night and day." – from Daniel A. and Aloy
Frequently Asked Questions
We use only kind methods in our dog training as these have long since been proven to effect the most solid and reliable behaviours in your dog. We never use what is known as "positive punishment" – applying aversive or negative outcomes to reduce behaviours. Instead, we focus on positive and rewarding ways to train dogs and help them succeed to learn the desirable behaviours instead!
For example, instead of training a dog not to bark when someone comes to the door, we would train the dog to go to their bed instead. We want to produce happy, confident dogs that are keen to work with and listen to their owners.
Basically, if you can dream it up, we can help train it! Some of the common examples that are relatively easy to train are cues like sit, down, stand, up, off, toilet training, settling on a mat and a switch off behaviour, come (recall), wait/stay, heel and loose lead walking. More complex tasks are also possible, for example, the kind of behaviours we train assistance dogs to do such as opening and closing doors or taking washing out of the washing machine.
We facilitate training by helping you, the owner, understand and apply training techniques so if you have the time and the enthusiasm to train, we will help you reach your aspirations!
If your dog has behaviour problems such as excessive barking, chewing or destructive behaviour, aggression towards people or other dogs, separation anxiety or is an adult dog toileting in the house, you will require a behaviour consult initially rather than dog training. This is because a lot of initial detective work will first be required in order to correctly understand the cause of the problem. Effective solutions can only be identified once we have gained a full understanding of the mechanisms underlying the problem.
If training is put in place without this understanding there is a higher risk of applying techniques which are ineffective, unfair or potentially dangerous. For more information on our behaviour consults please visit our page on dog behaviour consultations. For more information regarding our separation anxiety packages please click here.
Please contact us or email us (enquiries@edinburghdogbehaviour.com) for more information.
Note: Travel surcharge of 45p per mile for all clients outwith a 40 miles radius applies.