Many owners will struggle with their dog's behaviour at some point in their life – you are not alone! There are many ways in which unwanted behaviour can be managed and modified to make both your and your dog's lives easier and more fulfilling.
With our diverse team and collaborative approach, we are ready to support owners with diverse behaviour issues. All behaviour cases are led by our clinical behaviourist River McDonald and include a variety of approaches including online, in person and rehab training sessions with members of our training team.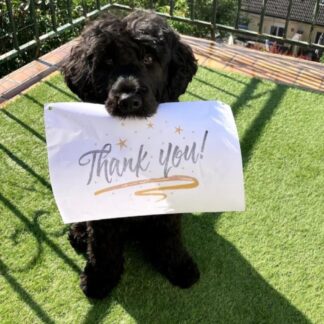 "Rather than just focusing on the "problem", River looked at every aspect of our dog's life and supported us in creating a comprehensive plan to improve her life and ours! She has helped us transform our puppy from a wild child into a calm and well behaved dog." - Leica's owner Hannah, September 2021
How will you solve my dog's behaviour problems?
Helping your dog overcome behaviour issues is a collaborative and gradual process. Behaviours that seem problematic to you are likely very functional and necessary as far as your dog is concerned! So, to get rid of these behaviours we will work together to look beneath what your dog is doing and look at their experiences and understanding, and their triggers, motivations and need. This approach tackles the root causes of unwanted behaviours, creating sustainable behaviour change. in the longer term.
We seek to work with clients who understand this and are ready to deepen the understanding they have with of their dog to create a happy, sustainable and mutually beneficial relationship. We work flexibly to support you using positive reinforcement, rewards, fun, canine-friendly communication techniques and are at all times led as much as possible by up-to-date science and tried and testing techniques.
Common dog behaviour problems we can help with
Aggression toward other dogs
Aggression toward unknown people
Aggression toward family / household members
Leash / lead reactivity
Aggression towards household pets including cats and small furries
Separation anxiety problems
Fearful behaviours (fear of people, vet visits, travel etc.)
Noise phobias (particularly fireworks)
Destructive behaviours (chewing, digging, scratching etc.)
Repetitive and compulsive behaviours
Frequently Asked Questions
We require all behaviour cases to provide completed a veterinary referral form prior to being accepted for a behaviour consultation. The process of referral ensures that we are fully aware of any health factors, past or present, that might affect your dog's welfare, wellbeing and their responsiveness to training and gives us the consent of your veterinary surgeon who should also be fully aware of your dog's behaviour issues and have consented to us providing treatment that falls outside of the veterinary remit.
A lot of behaviour issues do in fact have veterinary elements so it is to both yours and your dog's benefit for us to work collaboratively with your veterinary surgeon. This ensures we are providing the most effective behaviour planning and not putting yourself or your dog at risk, or wasting precious treatment time.
Your vet may have recommended an accredited behaviourist or the referral process can be started at your request if you wish to seek specialist behavioural treatment beyond that which your veterinarian or vet practice can offer. Our veterinary referral form can be downloaded
here
.
Your vet may wish to conduct an examination of your dog in light of the behaviour problem, and whilst we appreciate this often seems like an added expense and unnecessary if you dog seems "fine" physically, if they are not fine behaviourally then a vet visit could actually save you a lot of time and money in the long run.
Nowadays a great many insurance policies do cover behaviour work, provided that it is carried by an accredited Clinical Animal Behaviourist or full member of the APBC (River is both). Please check with your insurer for details on what your dog is covered for and how the claims process works.
We require payment for your dog's behaviour work directly and in most cases your insurer will process your claim after your consult or on completion of the treatment package.
Behaviour work may involve training but is distinct in that a behaviourist will first pull together all of the possible factors influencing your dog's behaviour, such as environment, socialisation, genetics, health & veterinary status, training and personality to provide a behavioural "diagnosis" which is key in coming up with an effective treatment plan.
Only by bringing everything together can we be sure to come up with something kind and effective, the two major aims of what we do! More often than not we focus on changing how your dog feels about something as this will naturally change your dog's behaviour.
This is the best way to get appropriate and permanent changes for the better, and to set your dog up to make good choices in how they behave.
Beware of any trainer or product that promises a "quick fix" for behaviour problems as most will use punishment-based or aversive methods which will temporarily supress the behaviour you were seeing but almost always make the underlying issue worse. Further down the line these dogs will often develop worse problems and may show aggression without warning since the behaviours they previously used to cope or communicate were punished.
All behaviour work starts with a vet referral and an initial consultation where we will gather history and observe your dog's behaviour. Since the pandemic, we have been splitting the initial consult between Zoom and in-person for most cases however we will advise you when booking your session what will be most appropriate for your case.
The initial consultation will take place at your own home or another safe and convenient location. During this consultation we will discuss in-depth what has been going on, have a look at the behaviour if appropriate, talk about likely causes of the problem and then together, identify some aims to work towards in rectifying the problems you are facing.
Where appropriate we will look at management, routine, feeding and training practices and you will have a chance to see these demonstrated and to try them out. Within 10 days of the consult you will receive a full written report and instruction sheets for any training that needs to be undertaken. A short report will be sent to your referring veterinarian.
Practical implementation of your behaviour plan is key in bringing about the changes you are looking for. We therefore generally recommend behaviour packages which include a number of practical sessions. We may also recommend additional sessions with one of our trainers, in person or via Zoom. We believe in helping owners build skills and this can take time so please feel free to ask for more sessions if you want.
Evening and weekend slots available, contact us for more information or to book.
Note: Travel surcharge of 45p per mile for all clients outwith a 40 miles radius applies.