River McDonald BSc MSc
Dog Behaviour Consultant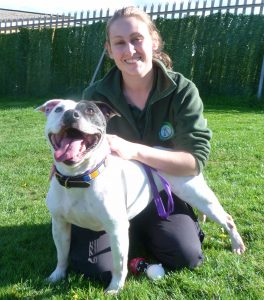 My goal is to build a happy confident relationship between you and your pet and therefore I use only kind, reward-based methods based upon up-to-date research and best practice. My approach is firmly centred on you and what you hope to gain from working with me, whilst paying close attention to your pet's history and individual needs, to build a behaviour plan that is achievable for you both.
I have a broad range of experience handling and working with dogs, from strays and street dogs in Asia to assistance dogs here in Scotland. With a background spanning education, enforcement and the charity sector I hope to bring a range of skills to your unique situation and collaborate to help you get the best from your dog. I am particularly interested in working with aggressive dogs and rescues with complex behavioural needs.
Qualifications and Memberships
River holds a BSc in Zoology from the University of Newcastle-upon Tyne and after many years working in behaviour and welfare for a range of species, was awarded the Douglas Houghton Memorial allowing her to gain a Master of Science in Applied Animal Behaviour and Animal Welfare from the University of Edinburgh / Royal (Dick) School of Veterinary Studies. River is also a provisional member of the Association of Pet Behaviour Counsellors (APBC) and is currently working toward accreditation as a Certified Clinical Animal Behaviourist with the Association for the Study of Animal Behaviour (ASAB)
July 2017: Human Behaviour Change for Animal Welfare, Counselling Skills Workshop, Manchester May 2017: David Ryan, Dogs that bite and Fight, Dogs Trust West Calder May 2017: Dick Vet Behaviour and Nutrition Conference April 2017: APBC Annual Conference, Managing Over-arousal in Dogs March 2017: APBC Webinar, Separation Problems, David Appleby March 2017: Puppy Life Skills Seminar, Helen Zulch Jan 2017: Doglaw for Professionals, Trevor Cooper Dec 2016: Disasters of Upbringing Conference, Royal Society of Medicine Nov 2016: Proprioception Seminar, Sam Turner Sept 2016: Dog Communication, Maxwell Muir Aug 2016: Clicker Training Workshop, Lynne Aitchison Jan 2016: Medication in Behaviour Modification APBC Webinar (Sarah Heath) Oct 2015: Dogs that Bite & Fight Seminar (David Ryan) Oct 2015: Separation Anxiety Webinar (Malena DeMartini) Oct 2015: Canine First Aid (Rhodes to Safety) Sept 2015: APBC Practical Assessment May 2015: Clinical Procedures (post graduate module) May 2015: Animal Health and Behaviour (post gratuate module) Nov 2014: Report writing for submission of cases to COPFS May 2014: Implantation of microchips (idENTICHIP)
Deborah Jarrett MSc
Dog & Puppy Trainer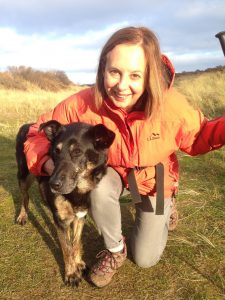 Behaviour problems are often a result of well-meaning owners who have not used the best techniques for training their dogs. My approach as a trainer is to equip animals and their owners with the skills they need to make good choices. I am passionate about sharing my knowledge and I use only positive reward based methods allowing you and your dog to thrive together.
With over 10 years experience working with dogs and cats in animal shelters, as a pet sitter, and as a veterinary assistant, I have given a TED style talk in Recife, Brazil on Assessing the Welfare of Street Dogs and Cats, and presented my dissertation research on assessing the welfare of shelter animals at the World Veterinary Congress (WVC) in Incheon, Korea. I hope you will join me soon for classes and seminars and expand your knowledge of canine behaviour.
Qualifications and Memberships
Deborah recently completed an MSc in Animal Welfare where she specialized in the welfare and behaviour of dogs and cats. She is a provisional member of the Association of Pet Behaviour Counsellors (APBC) and is working to gain the practical experience necessary for full membership. Deborah has also completed the Association of Pet Dog Trainers (APDT) Advanced Dog Training Course.
August 2017: Canine Body Languages, World Veterinary Congress, Korea. August 2017: Compulsive Disorders in dogs and cats : the Science Behind, World Veterinary Congress, Korea. August 2017: Aggression in Dogs, World Veterinary Congress, Korea. April – August 2017: Association of Pet Dog Trainers (APDT) Advanced Dog Training Course. March 2017: Dogs at Play Seminar, Maxwell Muir June 2016: (Federation of European Companion Animal Associations), Vienna: The dog-human relationship: new insights into its cognitive and emotional building blocks Behaviour problems and compromised welfare in pet dogs
- a chicken and egg problem: Does compromised welfare lead to behaviour problems or is it the other way round? Animal Welfare - Human attachment to dogs and cats and its ethical implications Animal Welfare - Obesity in dogs and cats – welfare and ethics