River McDonald BSc MSc
Dog Behaviour Consultant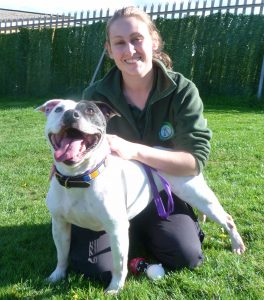 My goal is to build a happy confident relationship between you and your pet and therefore I use only kind, reward-based methods based upon up-to-date research and best practice. My approach is firmly centred on you and what you hope to gain from working with me, whilst paying close attention to your pet's history and individual needs, to build a behaviour plan that is achievable for you both.
I have a broad range of experience handling and working with dogs, from strays and street dogs in Asia to assistance dogs here in Scotland. With a background spanning education, enforcement and the charity sector I hope to bring a range of skills to your unique situation and collaborate to help you get the best from your dog. I am particularly interested in working with aggressive dogs and rescues with complex behavioural needs.
River holds a BSc in Zoology from the University of Newcastle-upon Tyne and after many years working in behaviour and welfare for a range of species, was awarded the Douglas Houghton Memorial allowing her to gain a Master of Science in Applied Animal Behaviour and Animal Welfare from the University of Edinburgh / Royal (Dick) School of Veterinary Studies.
River is also a provisional member of the Association of Pet Behaviour Counsellors (APBC) and is currently working toward accreditation as a Certified Clinical Animal Behaviourist with the Association for the Study of Animal Behaviour (ASAB)
June 2020: Animal Behaviour Counselling from Principles to Practice (APBC Annual Conference)

Puppy Education: Recent Advances, Gwen Bailey
A Dog's Rescue Journey- The Science of Shelter Behaviour, Tom Candy
I Love Him Like My Child: Human Attachment, Parenting & Empathy, what do they mean for practice? Dr Anne McBride
Animal Welfare: Beyond the Five Freedoms, Suzanne Rogers
Building Foundations of trust, Safety & Confidence: A Case Study of Drax's Galactic Adventure, Natalie Light
Handling & Body Language: How can we improve an animal's experience of the veterinary environment? Dr Hannah Donovan

August/ Sept 2019: ACTION Conference – Welfare Implications of Unethical Breeding and Psychological Trauma in Dogs:
Psychological Trauma in dogs and resulting behaviour issues, Dr Karen Overall
The effect of Trauma and Stress on the brain and endocrine system, Dr Simon Gadbois
The impact of poor breeding practices on health and fitness, Dr David Sargan
Tackling Puppy Farming & its legacy, Linda Goodman
Greyhounds: breeding & Welfare, Susan McKeon
Canine Mental Health & Wellbeing, Dr Franklin McMillan
The role of pain and disease in behaviour issues, Dr Rowena Packer
Pharmacological Interventions, Dr Karen Overall
Nutritional Deficits and Supportive Nutrition, Dr Lottie Davies
Training Interventions and rehabilitation, Amber Batson
Biting: Assessments, Implications, Decisions & Management, Julie Bedford
The role of play in rehabilitation, Dr Leticia Fanucchi
Olfactory Training & Stimulation as a potential tool for rehabilitation, Dr Simon Gadbois
Help the human help the dog: aspects of human-canine communication, Dr Marta Gacsi
Turning Canine Trauma Victims into Family dogs, Dr Pamela Reid
How to Address the Root Problem: A Model for Dog Welfare, Suzanne Rogers

May 2019: Keep Calm & Collaborate, APBC Annual Conference, Kettering
March 2019: Loose Lead training Masterclass (Claire Staines, Lothlorien Dog Training), Linlithgow
February 2019: The gut-brain connection seminar (Annie Breen/ Napier University), Edinburgh
September 2018: Behaviour Essentials for the Veterinary Team (APBC), Kettering
August 2018: The Roles of Pain and Nutrition in Behaviour, 1 day seminar (Dr Robert Falconer-Taylor)
August 2018: The Science of Emotionality, 1 day seminar (Dr Robert Falconer-Taylor)
August 2018: An Update on the Concept of Resource Guarding (PACT/ Muriel Brasseur), Tombreck
February 2018: Dick Vet Behaviour & Nutrition Conference, Edinburgh

July 2017: Human Behaviour Change for Animal Welfare, Counselling Skills Workshop, Manchester; May 2017: David Ryan, Dogs that bite and Fight, Dogs Trust West Calder; May 2017: Dick Vet Behaviour and Nutrition Conference; April 2017: APBC Annual Conference, Managing Over-arousal in Dogs; March 2017: APBC Webinar, Separation Problems, David Appleby; March 2017: Puppy Life Skills Seminar, Helen Zulch; Jan 2017: Doglaw for Professionals, Trevor Cooper; Dec 2016: Disasters of Upbringing Conference, Royal Society of Medicine; Nov 2016: Proprioception Seminar, Sam Turner; Sept 2016: Dog Communication, Maxwell Muir; Aug 2016: Clicker Training Workshop, Lynne Aitchison; Jan 2016: Medication in Behaviour Modification APBC Webinar (Sarah Heath); Oct 2015: Dogs that Bite & Fight Seminar (David Ryan); Oct 2015: Separation Anxiety Webinar (Malena DeMartini); Oct 2015: Canine First Aid (Rhodes to Safety); Sept 2015: APBC Practical Assessment; May 2015: Clinical Procedures (post graduate module); May 2015: Animal Health and Behaviour (post gratuate module); Nov 2014: Report writing for submission of cases to COPFS; May 2014: Implantation of microchips (idENTICHIP);
Tania Pires
Admin Assistant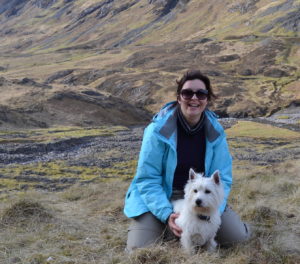 Tania joined Edinburgh Dog Behaviour in May 2019 to provide administrative support for our growing business. She provides a point of contact for all new enquiries, helps manage bookings and payments and liaises with veterinary surgeries to ensure health and welfare of dogs and owners remains at the heart of what we do.
Originally from Portugal but settled in our beautiful city, Tania is a Virtual Assistant with over 10 years of management and IT experience in a range of industries. In her spare time she loves to travel, and has a gorgeous and friendly Westie who loves to pose for photos.