Think Like A Behaviourist
June 9, 2018, 9:30 am

–

1:00 pm

£55

Ever wondered how behaviourists diagnose and treat behaviour problems? This workshop aims to give you a fascinating insight into the detective work required to get to the bottom of canine behaviour problems, looking at health and physiology, the effects of learning, canine behaviour as it has developed through the process of domestication and through the life of the individual dog.
We will be dispelling myths, talking training, and sniffing out the underlying factors that contribute to common issues such as aggression and separation anxiety.
Workshop Outline
Part 1: Why does my dog…?
An overview of the major factors influencing behaviour, how and why behaviours develop, and how to identify which factors are affecting the case.
Domestication: 30,000 years of developing the dog
Pre-natal and maternal influences on behaviour
Socialisation vs exposure: the effects of incomplete or negative experience on behaviour
Physiology and health – stress, arousal, illness and pain
Aging and behaviour
How dogs learn – the problem AND the solution!
Part 2: Treating unwanted behaviour
Behavioural first aid – keeping everyone safe
How to gather behaviour history: Open vs closed questions, separating fact from opinion
Behaviour time lines
Initiating and maintaining factors
Treating behaviour problems – what to tackle and who to ask for help, how to formulate a behaviour modification plan
About the Speaker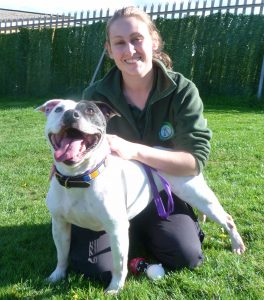 River McDonald BSc MSc is an Animal Behaviourist and Canine Behaviour Consultant, who runs Edinburgh Dog Behaviour, preferentially working with assistance dogs and seeing behaviour cases presenting with aggression. She holds a Masters degree with distinction in Applied Animal Behaviour & Welfare from the University of Edinburgh and Royal (Dick) School of Veterinary Studies and a Bachelors in Zoology with honours from the University of Newcastle-upon-Tyne.
River has worked with a wide range of animals in a behaviour and training capacity, having started out training honey bees for her BSc and graduated whilst working on the behaviour of captive, semi-wild and wild orangutans in Malaysia and Borneo. Having grown up in a kennels she has a long-standing interest and life long experience in canine behaviour, ranging from the showing of her parents setters at a young age to enforcing Scottish legislation as an Animal Welfare Officer and involvement in government consultations on the law governing dogs in the U.K.
As well as her background in animal behaviour and canine behaviour consultancy, River has roots in the education sector, designing and delivering fun and innovative learning experiences for organisations including the World Wild Fund for Nature (WWF), APE Malaysia and Edinburgh University Students' Association. She currently runs workshops in the U.K. covering aspects of dog behaviour and dog law, and lives with her two (Scottish) rescue dogs and two (Malaysian) rescue cats!